National Team - Lions ● Aug 19, 2019
Two training sessions for National Team and Under-22s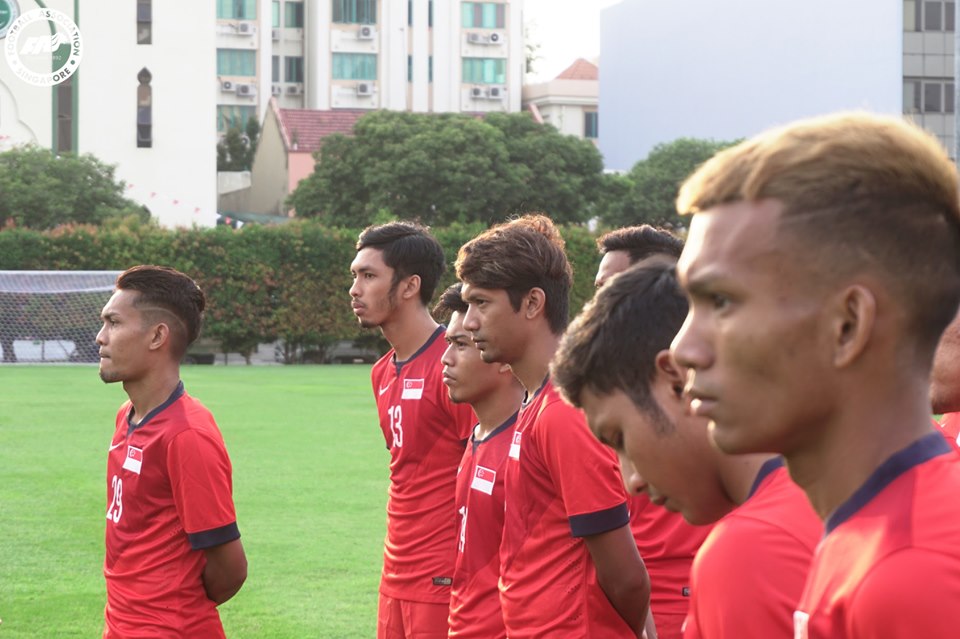 SINGAPORE, 19 AUGUST 2019 – Twenty-five players from the Singapore Premier League (SPL) have been called up for National Team training this week by Singapore National Team Coach Tatsuma Yoshida, as he ramps up his preparations for the World Cup Qualifiers beginning next month.
These are part of the Japanese tactician's ongoing initiative to have a closer look at players scouted from the various SPL clubs, having already started with two such sessions earlier this month. The players have been drawn from across all seven local clubs and will report on 20 and 21 August at Geylang Field.
Similarly, as part of the Singapore Under-22 National Team's preparations for the 2019 Southeast Asian Games, Head Coach Fandi Ahmad will conduct training sessions on these two days. Twelve players from across six SPL clubs and Singapore Armed Forces SA will join players from the Young Lions for both sessions.
Please note that the sessions are not to be considered as official call-ups. More details can be found below.
Singapore National Team training
Date
Time (SGT)
20 August 2019

Tuesday

8.00am
21 August 2019

Wednesday
Singapore Under-22 National Team training
Date
Time (SGT)
20 August 2019

Tuesday

6.00pm
21 August 2019

Wednesday

National Team Player list
| | | | | |
| --- | --- | --- | --- | --- |
| S/N | Name | Pos | DOB | Club |
| 1 | Syazwan Buhari | GK | 22-Sep-92 | Tampines Rovers |
| 2 | Zainol Gulam | GK | 4-Feb-92 | Geylang International |
| 3 | Zharfan Rohaizad | GK | 21-Feb-97 | Young Lions |
| 4 | Amirul Adli | DF | 13-Jan-96 | Tampines Rovers |
| 5 | Faizal Roslan | DF | 30-May-95 | Home United |
| 6 | Anders Aplin | DF | 21-Jun-91 | Geylang International |
| 7 | Iqram Rifqi | DF | 25-Feb-96 | Home United |
| 8 | Syahrul Sazali | DF | 6-Sep-96 | Young Lions |
| 9 | Irwan Shah | DF | 2-Nov-88 | Tampines Rovers |
| 10 | Zulqarnaen Suzliman | DF | 29-Mar-98 | Young Lions |
| 11 | Nazrul Nazari | DF | 11-Feb-91 | Hougang United |
| 12 | Shahdan Sulaiman | MF | 9-May-88 | Tampines Rovers |
| 13 | Hami Syahin | MF | 16-Dec-98 | Home United |
| 14 | Yasir Hanapi | MF | 21-Jun-89 | Tampines Rovers |
| 15 | Jacob Mahler | MF | 20-Apr-00 | Young Lions |
| 16 | Christopher van Huizen | MF | 28-Nov-92 | Geylang International |
| 17 | Zulfahmi Arifin | MF | 5-Oct-91 | Hougang United |
| 18 | Firdaus Kasman | MF | 24-Jan-88 | Geylang International |
| 19 | Farhan Zulkifli | MF | 10-Nov-02 | Hougang United |
| 20 | Shawal Anuar | FW | 29-Apr-91 | Geylang International |
| 21 | Hafiz Nor | FW | 22-Aug-88 | Home United |
| 22 | Gabriel Quak | FW | 22-Dec-90 | Warriors FC |
| 23 | Faris Ramli | FW | 24-Aug-92 | Hougang United |
| 24 | Hazzuwan Halim | FW | 2-Feb-94 | Balestier Khalsa |
| 25 | Saifullah Akbar | FW | 31-Jan-99 | Young Lions |

Under-22 National Team Player list (non-Young Lions)

| | | | | |
| --- | --- | --- | --- | --- |
| S/N | Name | Pos |  DOB | Club |
| 1 | Jordan Vestering | DF |  25-Sep-00 | Hougang United |
| 2 | Danish Irfan | DF |  10-Mar-99 | Geylang International |
| 4 | Tajeli Salamat* | DF |  7-Feb-94 | Warriors FC |
| 5 | Ryhan Stewart | DF |  15-Feb-00 | Warriors FC |
| 6 | Nikesh Singh | MF |  24-Feb-99 | Hougang United |
| 7 | Daniel Goh | MF |  13-Aug-99 | Balestier Khalsa |
| 8 | Amirul Haikal | MF |  11-Oct-99 | SAFSA |
| 9 | Ariyan Shamsuddin | MF |  28-Aug-97 | SAFSA |
| 10 | Shah Shahiran | MF |  14-Nov-99 | Tampines Rovers |
| 11 | Arshad Shamim | MF |  9-Dec-99 | Home United |
| 12 | Amiruldin Asraf | FW |  8-Jan-97 | Home United |
*Overaged player for Southeast Asian Games 2019
**These players will join the rest of the Young Lions team for both U22 sessions